Facebook
Pinterest
Twitter
LinkedIn
Reddit

My Amazing Family Vacation In London
"Why, Sir, you find no man, at all intellectual, who is willing to leave London. No, Sir, when a man is tired of London, he is tired of life; for there is in London all that life can afford." Samuel Johnson.
I now know what he meant by this statement as the experiences of London are amazing and infinite.
We went on a Family Vacation to London for Spring Break in 2018. My plan was to make a few notes here and there and post some while in London, however, that plan was foiled. We were so busy as there are so many places to visit and so many things to do in London. I only had time (and energy) in the evenings to upload my cool pictures.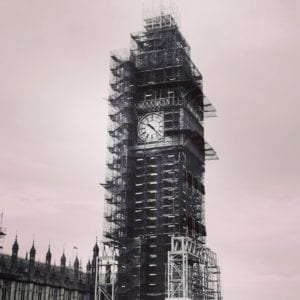 London is beautiful everywhere you look.
The sights, the sounds, the all around attitude is beautiful. My senses were constantly on overload. I snapped pictures high, low, sideways. My children made relentless fun of me and my enthusiasm for every site and every moment. I know they will thank me later when they see the pictures and reminisce about our Vaction in London
Six of the seven days were cold (in the 40's F) and rainy, not pouring the rain, but just enough to need coverage.
We ended up not using the umbrellas as our coats were impermeable. We bundled up and we were all perfectly warm and cozy every day. So even though it was raining it did run our vacation to London
For my list of travel essentials for London in early spring, click here. Or for what to pack for your travels to London, click here.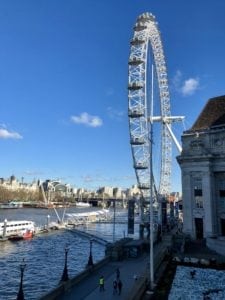 The last day that on our Vacation in London was absolutely beautiful.
Only a few little clouds in the sky all day long. Don't get me wrong, it was 55 degrees F, but beautiful. It was funny to this Floridian seeing people in swim suits in the fountains on this day when we were all still bundled up. The weather did not have any bearing on how unbelievably beautiful London is, rain or shine. We were totally prepared, so it was not a factor…at all.
Our first couple of days in London we were somewhat jet lagged and trying to adjust to the five hour time change.
I did not think this would be a factor, but it was, so we all napped some and relaxed and caught up. My family, all of them, kept reminding me that we were on VACATION!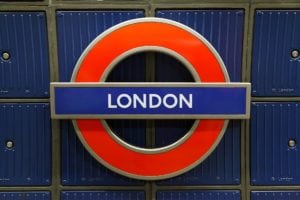 We combined walking and traveling by tube for the majority of the time on our Vacation in London
We did one day of Hop on Hop off bus tour with Big Bus B. With the London Pass you have an entire day of using this tour bus.
We walked over the Westminster Bridge, strolled through St. James Park, then ate at Inn the Park. We walked through Trafalgar Square to Covent Gardens then back over Waterloo Bridge back to the Marriott.
In the evening, we had our first tube experience to Bank Underground Station. It was here that we met a quirky tour guide who took us on a Walking Ghost Tour through the Alleys. It was fun seeing the city this way, however no ghosts were spotted, that we know of. My son loves a spooky ghost story, so we did this on his behalf. He enjoyed the eerie darkness and the possibility of an orb siting, and we enjoyed the history.
On Easter, we slept in as still somewhat jet lagged. Ate lunch at the Lamb and Flag, one of the oldest pubs in London, a pub that was once known as the Bucket of Blood!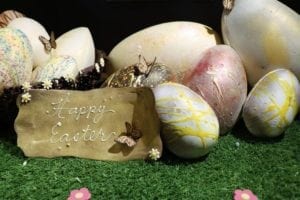 I was quite impressed by the ground that we covered all over on our Vacation in London.
We made it to see the Horse Guard Parade, we toured the British Museum, the London Dungeon, Churchill War Rooms, Westminster Abbey, Kensington Palace and we saw the Changing of the Guards at Buckingham Palace.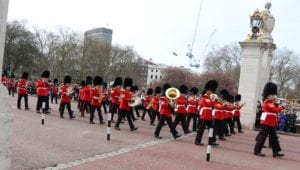 We attended a Medieval Banquet and saw Wicked at the Apollo Theatre. I had to see the Crown Jewels, so we took a tour of the Tower of London.
I went solo to the Florence Nightingale Museum at St. Thomas Hospital, since we were staying right across the street. I did not subject the kids to this
We ate Fish and Chips, drank hot cider, hot whiskey, hot wine and some cold pints. We ended our visit Friday with Afternoon Tea At Sketch Restaurant and Gallery.
Whew…what a week.
The View of the Tower of London from the Thames.
Queen Victoria in front of Kensington Palace.
The Sunken Garden at Kensington Palace.
Check out the line of people waiting to enter Westminster Abbey.
The city was packed with people due to "half term" (which I think is what they call Spring Break). However, we rarely ran into anyone who seemed rushed or irritated by the extra people everywhere.
Everyone whom we came into contact with was kind and helpful.
There was quite a language barrier, which I did not expect. So much that we started collecting words and phrases. We compiled a list of British Translations.
There are so many things to do and places to see in London. All in all, an amazing city to visit for so many reasons, and I hope someday to get back. We had such a wonderful time on our Vacation in London
A few more pictures and it's a wrap!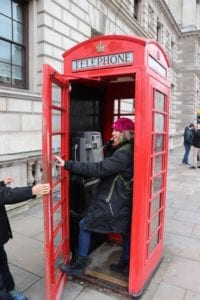 Obligatory Red Phone Booth Picture!
Beautiful Japanese Magnolia at Kensington Palace.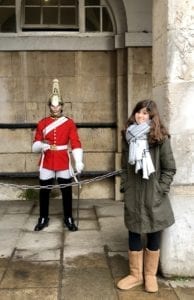 We hired her a guard.
My daily fix from the Whiskey Truck.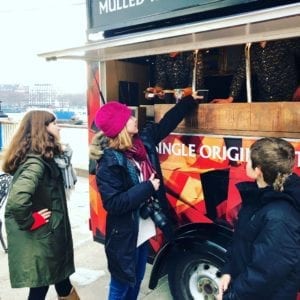 Safe Travels from Traveling Party of Four!
By Joanne
/ December 7, 2019
Originally Posted on sunsetsandrollercoasters.com Are you wondering how to get to Belem and what to do in Belem once you've...
Read More